Home

Keynotes

Concerts

CD's

Wolf Trap CD's

Contact
Questions or comments?
Please e-mail us.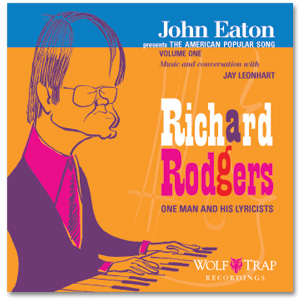 Recorded live before a studio audience at the Center for Education at Wolf Trap, this CD captures the essence of pianist, vocalist, musicologist, and humorist John Eaton's many concert/lectures on the American Popular Song. Join John and legendary bass-man, Jay Leonhart, in a radio-style journey through the music of Richard Rodgers. Sit back, listen, learn, and laugh as John and Jay explore the world of Richard Rodgers–One Man and His Lyricists.
Mr. Eaton's keen insight, immaculate musicianship and extraordinary pianistic talent continue to earn him the highest accolades from music critics, listeners, and fellow musicians.
Buy one at Wolf Trap's Online Store
Visit www.wolftrap.org or call 877-music77 to order CDs